×
This site is closed for registration.
2022 Special Olympics USA Games Volunteers

June 03-12, 2022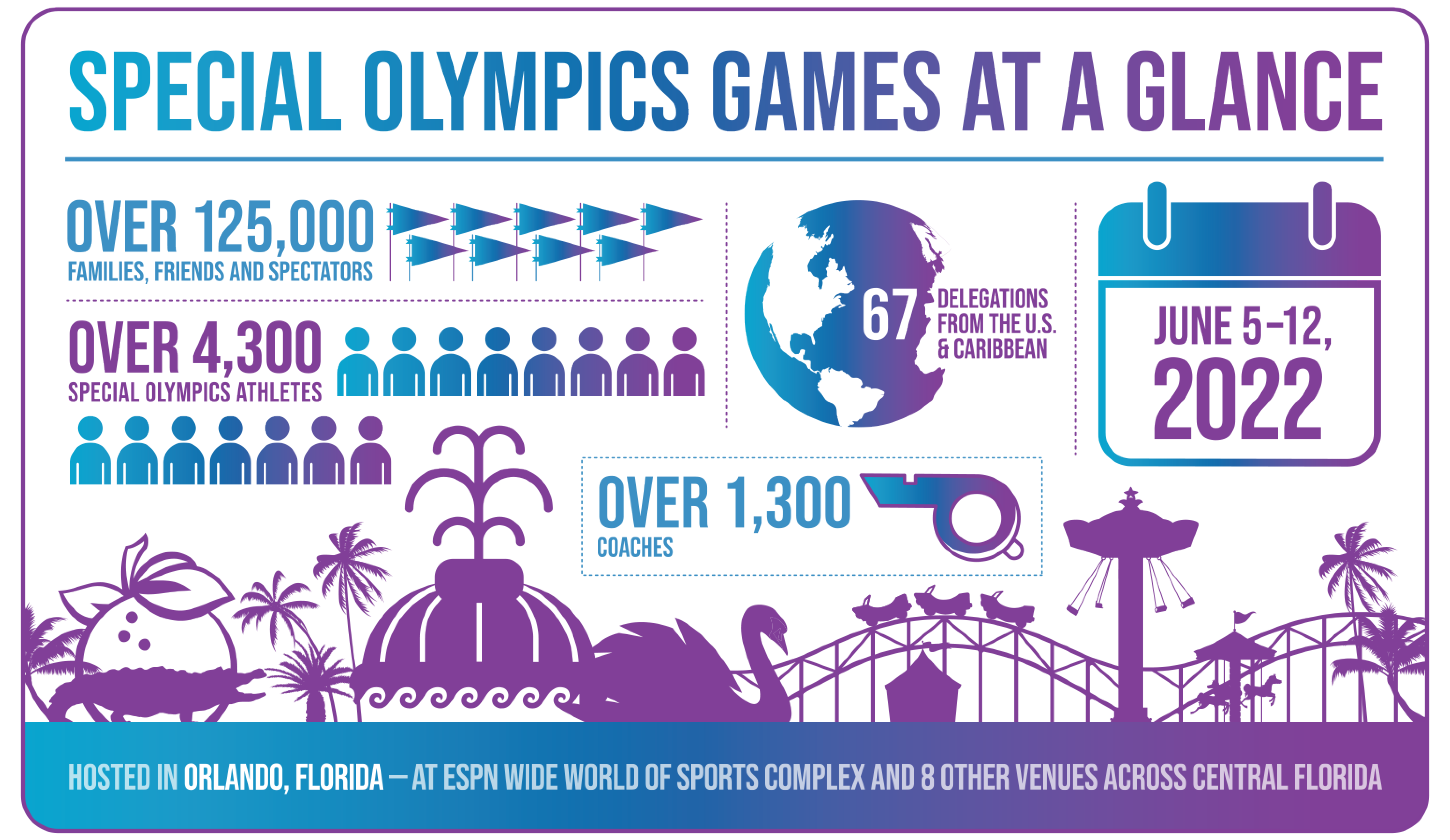 ATTENTION MEDICAL & HEALTH VOLUNTEERS: Please click HERE to be taken to the Medical and Health Program Volunteer Registration Site.
ATTENTION MINOR VOLUNTEERS
CLICK ON THE
LINKS
BELOW TO DOWNLOAD & PRINT THE
REQUIRED WAIVERS
MINOR WAIVERS
BE A PART OF HISTORY:
The 2022 Special Olympics USA Games to be held in Orlando, FL June 5-12, 2022, will be the largest USA Games in history and the largest humanitarian event in the State of Florida's history.
Volunteers make the Games possible and help to further the mission of Special Olympics. USA Games volunteers play a critical role in providing an outstanding experience for the athletes, families, and spectators. We appreciate you giving your time, talent, and commitment to making these the best Games ever!
VOLUNTEER REQUIREMENTS:
Have your own email address & mobile phone number for registration. No shared email/phone #s.

Individual Adult & individual Minor volunteers are asked to sign up for a minimum of two (2) shifts if possible when they visit the Shift Selection site.

Please show up if you sign up. The athletes and your fellow volunteers are counting on you!

Follow all health, safety, venue operating guidelines and Volunteer Code of Conduct.

Complete the required online training and orientation before receiving your credential, Games-issued items, and volunteering.

Add volunteers@2022USAGames.org to your email contacts to ensure you receive Games updates and scheduling information.
Individual ADULT volunteers:

​

​Must be a minimum of 18 years of age at the time of registration.

Will electronically sign a 2022 Special Olympics USA Games Adult Waiver during the shift selection process.

Will hand-sign an ESPN Wide World of Sports Complex Adult Waiver paper copy and turn it in when you pick-up your credential, T-shirt(s) and Games-issued items.

Individual MINOR volunteers:

Must be a minimum of 15 years of age by June 5, 2022.

15-17 years old must have a parent or legal guardian complete the Minor Registration.
Have a parent or legal guardian of the minor or ward download, carefully read, hand-sign, and upload all pages of the required ESPN Wide World of Sports Complex Minor Volunteer Waiver.
Have a parent or legal guardian of the minor or ward, download, carefully read, hand-sign, and upload all pages of the required USA Games Minor Volunteer Waiver.
NOTE: The Parent or Legal Guardian must upload both Minor waivers to the Minor's account. If you need assistance, you have the option to email both waivers as two attachments (all 6 pages of each waiver) to volunteers@2022usagames.org and request to have both waivers uploaded to your minor child or ward's account.
​
CREDENTIAL PHOTO SPECIFICATIONS (Leadership Volunteers ONLY):
Accepted file format: JPG or PNG, no larger than 1MB
The headshot photo is required for Leadership Volunteers ONLY and used for credentialing.

Photos that do not meet the specifications will need to be replaced.

Photos of a drivers l

icense or passport are not acceptable.

Photo should capture from slightly above top of hair to middle of chest so that your face takes up 70-80% of the photograph.

Directly face the camera with eyes open and visible and face in focus.

Background must be plain white.

Must be a photo in color.

Nothing should block the photos (e.g. watermarks, staples, flash).

Eyeglasses should be worn if normally used by the individual and should not cover any part of the eyes.

Include headpieces if worn daily for religious purposes; they should not obscure or cast shadows on the eyes or any other part of the face. No other head/hair accessory or hats.

Medium – resolution photography and printing are strongly recommended.
VOLUNTEER REGISTRATION & SHIFT SELECTION:
NOW
–
Individual volunteers will select their shifts.
April/May 2022
–
Volunteers will take required online training. Online training assignment has closed, however, you can watch the Volunteer Orientation Session for key information about the Games, safety and service.
May 2022 - Volunteer Orientation session will be offered May 14th in the Arena at the ESPN Wide World of Sports Complex. Reigster to attend the session by clicking on VOLUNTEER ORIENTATION SESSION on the Shift Selection Site and selecting your check-in time.
May/June 2022 - Volunteers pick-up credential, T-shirt(s) and Games-issued items at the Orientations Session on May 14 or at Distribution Days on May 28 & 29 or June 1-5. Details will be emailed to volutneers NOTE: Your credential, T-shirt(s) and Games issued items must be picked up during one of these days prior to your shifts. Volunteers who are traveling from out of town only may pick items up at the Volunteer Check-in Tent at ESPN Wide World of Sports Complex after June 5th between 10am-5pm the day before their shfit.
VOLUNTEER GROUPS: (Group registration is closed. Please sign up individually and select shifts together)
Must have a minimum of 10 people 18yo+, each of whom we request will volunteer a minimum of two (2) shifts.

If these criteria cannot be met, people can still volunteer as an individual.
FAQ'S:
WHAT VENUES WILL HOST THE COMPETITIONS & EVENTS?
2022 USA Games competition and special events will be held at ESPN Wide World of Sports Complex, Disney's Typhoon Lagoon Water Park, various Disney Resorts and select competition venues in the City of Orlando, Orange County and Osceola County.
WILL TRANSPORTATION BE INCLUDED?
Transportation to & from Central Florida, venues, airports and Opening Ceremony is the responsibility of the volunteer.

Disney may offer very limited transportation to & from select Disney Resorts and ESPN Wide World of Sports Complex and Disney's Typhoon Water Park for Resort guests.
WHAT DO VOLUNTEERS RECEIVE? A
Volunteers will receive:
Volunteer Games T-shirt -- (2) when volunteering three or more shifts; (1) for two shifts.

Games souvenir credential.

Games cap.

One (1) complimentary meal served for each volunteer shift of five (5) hours or more. Start date TBD. Food allergies will be accommodated to the extent possible when advance notice is provided during registration.
PLEASE ADD THE GAMES VOLUNTEER EMAIL TO YOUR EMAIL CONTACTS:
To ensure you receive updates and information, please add the 2022 USA Games volunteers email address to your email contacts: volunteers@2022USAGames.org.
ADDITIONAL INFORMATION:
Additional volunteer information is available on the volunteer tab of the Games website. CLICK HERE to be redirected.
Policies, information, and schedules are subject to change at the discretion of the Games.